Live note taking at the #MRIA2017 conference in Toronto. Any errors or typos are my own.
Navigating The New Insights Landscape
Simon Chadwick, Managing Partner, Cambiar; Chairperson, Insights Association
Change is here and the industry is in the midst of the sot rapid transformation it has every seen
Most conferences talk about how technology has pushed the change forward. Tech is the enabler. An amazing enabler. Let's us do the things we've done before in an affordable faster way.
Clients are pushing the change. CLients dictate what our industry looks like.
Decades ago, major agencies spawned new agencies as people left and set up their own agencies in an entrepreneurial way, there were few barriers to entry, you just needed a new idea or way of thinking, or they got a first follower. Today's being names came up that way.
Now clients must do far more with far less. People used to make their money from annuity income – trackers, A&U studies, big studies, big clients, a with big relationships. You could count on the money coming through the door. However, those are the areas that clients are reducing or dropping. Can't count on this money now.
Clients want to spend more on data integration, analystics, digital ad optimization, customer journey, path to purchase, most of which demand tech and we must learn those. These technologies belong to people who seem to be outside our industry.
Collection of data, creating insights form the data, translate that into business decisions, supporting those business decisions – the four core business areas of research
Our core business is incredibly fragmented, quant, qual, panel, DIY, mobile, communities, ethnography, mystery shopping, mobservational, etc
Half of research suppliers did not exist ten years ago, this is incredible, it is due to tech.
Funded by 14 billion in new capital, much of it for big data platforms in 2012. Gave way to social media, then web, then mobile analytics, and now predictive. Huge wave shifts on a yearly basis.
Private equity is now funding much of these, safe, solid, can be grown. They are concerned with growing the companies.
Large enterprises are being bought to consolidate and add to, and create larger enterprises that they can take to public markets.
Now we have public, private, venture capital, private equity, and corporate companies.
Now it's an uneven playing field with a huge amount of money. Our industry is not used to this. You wouldn't realize our industry have tons of cash but we do.
BIG research acquires innovation and consolidates. Big analytics is organic innovation and consolidation. Small analytics is top line growth and survival. Automation is share growth, disruption, and exit planning. New MR is gaining niche acceptance, survive by being clever. Small MR is like with like mergers, and partnerships.
[he encourages us to attend the qualtrics concert] Qualtrics is like a Star Trek conventions is massive fans
This all affects how you reward people, how you innovate, and what your ultimate goals are. You should know about your competitors and vendors work.
Shifting revenue mix matters to associations. Pool of members is shrinking. Pool of potential members is growing. Associations must expand the tent.
Insights association has 9 separate segments that need to be addressed. Voice of client must be heard loud by the association. They still need to meet client needs. Chapters are vital because they allow us to deliver cross education and networking we need.
Tech and researchers need to cross education – do analytics companies understand th ended for associations, the benefits we bring them. Probably they don't until a problem with security or privacy happens.
What does education look like? How do we education VC and PE on industry issues. How does political cliemate of your own and other countries affect industry?
Live blogging from the #MRIA national conference in Saskatoon, Saskatchewan. Any errors or bad jokes are my own.
Panel Discussion on Global Trends in Marketing Research
Moderator: Greg Rogers, Global Director of Consumer Market Knowledge, Proctor and Gamble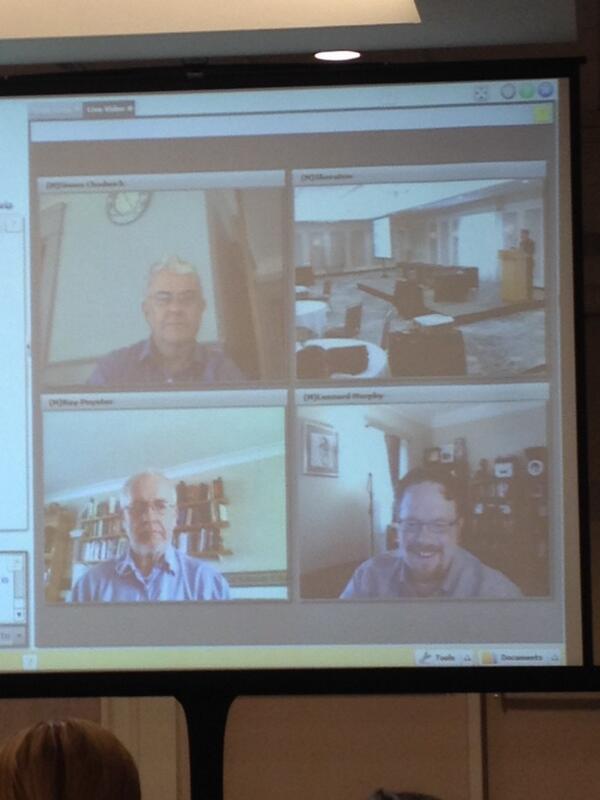 Panelists (via Web Conferencing):
Leonard Murphy, Chief Editor & Principal Consultant at GreenBook, Simon Chadwick, Managing Partner of Cambiar, Ray Poynter, Director of Vision Critical's University
Lenny:  Change is indeed happening has evidenced by trend data; seeing decline in revenues from the largest companies which means those funds are going to other places likely non-traditional places.
Simon: The change is technologically enabled, fewer resources but budgets have remained the same, more social media, more predictive analytics, more synthesizing happening. Trackers are being transferred to fully automated systems.
[kind of hard to hear, sorry for missing portions]
Some tools get a lot of hype and some are gaining traction
Three chunks related to big data – been there, done that; what's upcoming; what the hell is big data
Mobile is the future, two types – forced to rethink our traditional techniques because of the device being used to access surveys, responders made this decision not the researchers; type 2 is all the great things we can do with mobile like geo and in-the-moment research
Measuring emotion is becoming important, CMOs are really interested in big data but correlations of big data aren't everything, customers need emotion and empathy and we need to measure this
Big data is good around the edges, the margins
There is so much data with so much value and we probably won't be able to solve this for another five years
Privacy is becoming more of an issue particularly in Europe and Canada
A phone can scan a face, there is an app to scan the facial expression, BeyondVerbal seems to do this
Big data will soon be emotion data
Technology is precipitating change in the industry
Winners will be the big agencies that buy the innovative companies
Ray suggests that marketing and market research will merge and we will need to figure this out
Two types of innovative companies – challenging, disrupting companies and then peripheral companies that are new companies from the technology side
we're good at analysis but it is different than synthesis, we need to synthesize the stories [oh my goodness, premonition for my pres later today!]
Find something to be really good at whether it's ethnography or something else
Lenny: Are you a marketing researcher or are you in the business of helping people?  Use your curiosity to fix things and answer questions. We come across as number crunching accountants.
Lenny recommends exporting more poutine from Canada  🙂
17 million people added to middle class every year, like adding France every year
Canadian researchers are up there with the best in the world, and large international presence
Vision Critical, Hotspex, RIWI innovative companies coming out of Canada
Canada is more influential globally than australia
Read more of Ray's thoughts here: http://newmr.org/dialling-in-to-the-mria-conference-the-shape-of-things-to-come/
Other Posts

… Live blogging from downtown Toronto…
Future Trends in the Industry
Simon Chadwick, Managing Partner of Cambiar and Editor-in-chief of Research World, ESOMAR and author of the Future Trends Annual Report (Simon is presenting from the Washington airport as his flight was delayed. Tech problems? No way!)
Driving forces of change – economic power balance, connected empowered consumers, technology, media makeover/fragmenting

Communispace? Crowdsourcing? Neuroscience? SurveyMonkey? Who/what were these merely ten years ago?
1.2 billion people watched the cricket finals last year, digitally or otherwise connected. Rise of a global middle class which changes marketing and research expenditures. Shift away from major markets and towards emerging markets
Europe is a crisis of demographics, not enough children. It's not a debt crisis. This impacts marketing and research also.
Winds of change

more, faster, for less: affects the types of research companies will do and with whom they will do it, e.g., CSAT
new methods, better processes
river of information, big data: streaming real time data, CRM, transactional
growth of the global middle class
new talent for a new age

60% of client research VPs expect major transformation by 2020, of whom 70% think it will be evident in 2015. Not incremental but rather a revolution. Companies like cocacola, microsoft, GM, P&G C-suite feel this way.
If you don't like change, you'll like irrelevance a whole lot less. Joe Tripolie – Coca-Cola
Huge thought partner gap – clients want thought partners but feel they aren't getting that. 92% of clients want it, 37% are getting it.
Vendors feel like order takers and not being treated as consultants and advisors. Like they don't have access to the business knowledge.
Research must create business impact, tell a story and take a stand.
Two thirds expect a non-traditional leader of the research industry by 2020, not a Kantar, Neilsen, or GFK
27% of clients expect google to be research leaders by 2020
40% of research departments feel they will be marginalized by new sources of information
We are doing more: embracing change, innovation, data synthesis, non-traditional approaches, story-telling, social media listening
We are doing less: being brought in too late or treated as order takers
What is hot: web analytics, DIY, proprietary panels, digital qual, social media listening, MROCs, emotion measurement, mobile
What is NOT hot: prediction research, behavioural economics, gamification, eye tracking, neuroscience, virtual shopping
60% of clients say DIY will replace much standardized research by 2020
Full service agencies have put out the welcome mat to their competition – ignored market niches, disruptive technologies.
It appears agencies aren't reading their clients well, agencies are ignoring red flags. But it's not too late.
We need three types of people:

management consultants (we all cringe) in the senior research positions, they talk the language of the C-suite;
polymaths, people who are experts in many different areas, technology, synthesis, different data, qual and quant
specialists: feed data to the polymaths, just one technology, just one type of analytics

If you want to be rich, go into analytics
Related articles