Tag Archives:
NatCen Social Research
On Wednesday October 29, 2014, a brand new book is being released including a chapter by moi! It's called "Social Media in Social Research: Blogs on Blurring the Boundaries" and it's edited by Kandy Woodfield who is the Learning and Enterprise Director at NatCen Social Research, and the co-founder of the NSMNSS network. Buy the book on Amazon and leave a review!
Social research as a craft, a profession, is all about making sense of the worlds and networks we and others live in, how strange would it be then if the methods and tools we use to navigate these new social worlds were not also changing and flexing.  Our network set out to give researchers a space to reflect on how social media and new forms of data were challenging conventional research practice and how we engage with research participants and audiences. If we had found little to discuss and little change it would have been worrying, I am relieved to report the opposite, researchers have been eager to share their experiences, dissect their success at using new methods and explore knotty questions about robustness, ethics and methods.
Our forthcoming  book of blogs is our members take on what that changing methodological world feels like to them, it's about where the boundaries are blurring between disciplines and methods, roles and realities. It is not a peer reviewed collection and it's not meant to be used as a text book, what we hope it offers is a series of challenging, interesting, topical perspectives on how social research is adapting, or not, in the face of huge technological and social change.
You can join us for the virtual launch by following the tweets here or the blog posts here. I won't be able to attend the launch but you just might catch me in a quick video. I'll see you there virtually!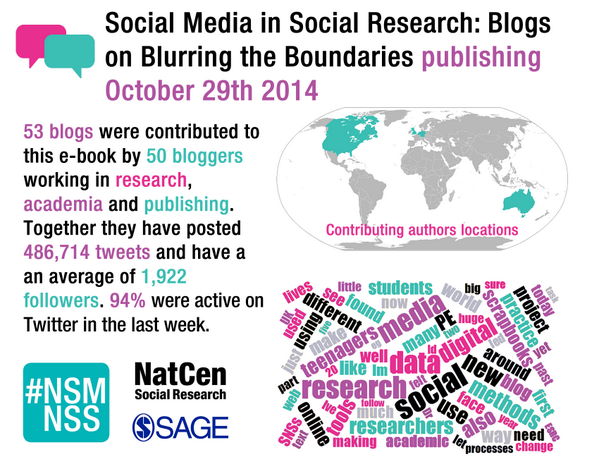 Posted in:
marketing research
| Tagged:
Amazon
,
blogging
,
book
,
book of blogs
,
ebook
,
kandy woodfield
,
Kindle
,
natcen
,
NatCen Social Research
,
NSMNSS
,
social media research